The Best Of Exmoor
Wingate Farm, Countisbury
Nr Lynton
8
Guests

3
Bedrooms

2
Bathrooms

pets
welcome
Wingate Farm is a newly renovated traditional farmhouse with 3 bedrooms, sleeping up to 8 guests. Located in a secluded and beautiful area of Exmoor on a working farm. The South West Coast Path and the Coleridge Way both pass very nearby; it's well suited for family holidays and for exploring!
---
---
The region
Exmoor is one of the least visited National Parks so has a low tourist footprint!  It straddles coastal North Devon and West Somerset. Nonetheless, it is packed with amazing beaches and amenities.

The nearest amenities are found in Lynmouth and Lynton. Lynton has a variety of ...amenities, including a range cafes, restaurants and pubs to choose from, there are two mini-supermarkets, a bank, post office, chemist and an excellent Tourist Information Centre. There is also a small cinema, and tennis and bowls facilities. The twin village of Lynmouth sits on the harbour below at the bottom of the hill, and also has a good choice of shops, pubs and restaurants. Lynmouth can be accessed via road, footpath or the famous funicular railway.

Lynton and Lynmouth are very special places to visit, the spectacular coastline and deeply cut river valleys in this unique area provide wonderful opportunities for walking; the South West Coast Path and the Two Moors Way are two examples. The famous Watersmeet is not far away, a beautiful National Trust tea garden and shop situated at the meeting of the East Lyn River and Hoar Oak Water. If this isn't enough, sandy beaches can be found within a delightful scenic drive.

The village of Porlock has three pubs, two grocery shops, a traditional local butcher, Post Office, chemist, cash machine, hardware shop, visitor centre and a range of independent restaurants, shops and tea rooms.  

The larger towns of Minehead 14 miles, Ilfracombe and Barnstaple are all approximately 20 miles away, here you will find the larger supermarkets, high street banks, etc.
+ More
There are two lovely country pubs not far from the cottage, both within walking distance.  
The Staghunters Inn is in Brendon approx an hours walk, so a lovely daytime hike/outing, but not recommended as suitable at night.    
There is also The Blue Ball Inn a little further along the A39 road towards Lynmouth. You could walk there also and along the South West Coast path. 
Both only a 5 minute drive away. 
There are further pubs and restaurants in Lynmouth, Lynton and Porlock, all are a short 10/15 minute drive from the property. 
THE VALLEY OF ROCKS
Or Valley of the Rocks, is a dry valley that runs parallel to the coast in north Devon, England, about 1 kilometre (0.6 mi) to the west of the village of Lynton. It is a popular tourist destination, noted for its herd of feral goats, and for its landscape and geology.
There is a cafe for lunch and afternoon teas.


THE LYNTON AND LYNMOUTH CLIFF RAILWAY
The Lynton and Lynmouth Cliff Railway is a water-powered funicular railway joining the twin towns of Lynton and Lynmouth on the rugged coast of North Devon in southwest England. 
Lynton and Lynmouth are separated by a high cliff.
There are stunning views from the top in Lynton and a cafe.

WATERSMEET (National Trust)
Watersmeet House is a National Trust property located some 1.8 miles east of Lynmouth, in the English county of Devon. A former fishing lodge, it is today used as an information centre, tea room and shop by the National Trust.
Watersmeet is the confluence of the East Lyn river and Hoare Oak water.
it is a very beautiful place. It makes a good destination for a walk, either by walking down from The Blue Ball Inn in Countisbury or up from Lynmouth (both makes a good circular walk).
It can also be visited be car. The simplest route by car is to go to Lynmouth, then turn up left at the bridge to follow the river up. 


PORLOCK HILL & COMMON
Take a walk on Porlock common and see the wild Exmoor ponies grazing freely. 
There is a big carpark called (Whitstones) where The Styles van offers hot and cold drinks plus ice creams.
There are stunning views over Porlock and Bossington too.


HOLNICOTE ESTATE
This National Trust estate is situated in 12,000 acres of Exmoor National Park and offers stunning views of varied landscapes including 5 picturesque villages, beautiful moorland, a shingle beach and ancient woodland. Holnicote is a fantastic place for walkers, with over 100 miles of footpaths to explore. Wander round the villages or walk up to Dunkery Beacon, the highest point on Exmoor at 519m & take in the views north across the Bristol Channel to the south coast of Wales and south across Exmoor towards Dartmoor.


TARR STEPS
This is a picturesque spot in the River Barle which features a medieaval stone clapper bridge. 
The main car park is a 5 minute walk from the bridge but there is a disabled car park at the bridge itself. There is a lovely circular walk through the woods which takes about an hour and a tea room with gardens at the beautiful pub.


EXMOOR PONY CENTRE
The Exmoor Pony Centre, headquarters of The Moorland Mousie Trust, a charity that works tirelessly for the welfare and promotion of the rare breed Exmoor pony.
It is about a 45 minute drive over near to Dulverton but a great experience. 
Our favourite beach is at Lee Abbey. It is about 20 minutes' drive from Wingate. You go through Lynton, past the Valley of the Rocks. You could also park in Lynton and take the very scenic coast path if you want to add a walk (about 45 minutes each way). Mainly light shingle but some good sand. It is good for swimming but you may have to negotiate stones depending on tide. 
The best time to swim on the sandy part of the beach is within two hours of low tide or at full tide on the shingle, when you can jump off the rocks into the water – great fun! 
Small children can build sand castles and dam the streams and there are rocks to clamber on and rock pools to explore. There is a small charge for the toll road and car park, payable in an honesty box. There are no lifeguards, so be sure to supervise young swimmers. 
Unfortunately, dogs are not allowed on this beach between 1st May and 31st October. 
There is a great tea garden but it is not open on Sundays.

A little further west at Woolacombe, Puttsborough, Croyde and Saunton Sands. 
They are huge, white, sandy beaches which face the Atlantic. They are excellent for surfing, wind surfing and body boarding. The closest is at Woolacombe about a 45 minute's drive away and so it is probably best as a day trip. Woolacombe can get busy in high season but there are very big car parks and the beach is so big that you can always find a space if you walk along a bit.  
It is best to ignore the first car park you come to as you enter Woolacombe. 
Follow the road along to the large car park on the left.
On the beach, there are lifeguards and food and drink of all sorts is available. 
Croyde, Puttsborough and Saunton are less commercial than Woolacombe but they are a little further away along the same coastline.

There are beaches in Minehead and Dunster. These are lovely beaches but are somewhat shallow for swimming and when the tide is out, the shore seems miles away so high tide is probably best! The beach at Lynmouth is stony and not really suitable for swimming.  
Lynmouth does, however, have a lovely harbourside and an English seaside, ice cream, fish and chips are great.


Recommended transport links
Airport
Bristol or Exeter
ferry port
Portsmouth or Plymouth
Train station
Taunton or Barnstaple
More tips on how to get there
Full arrival information will be provided once your booking has been paid for in full.
Property Photos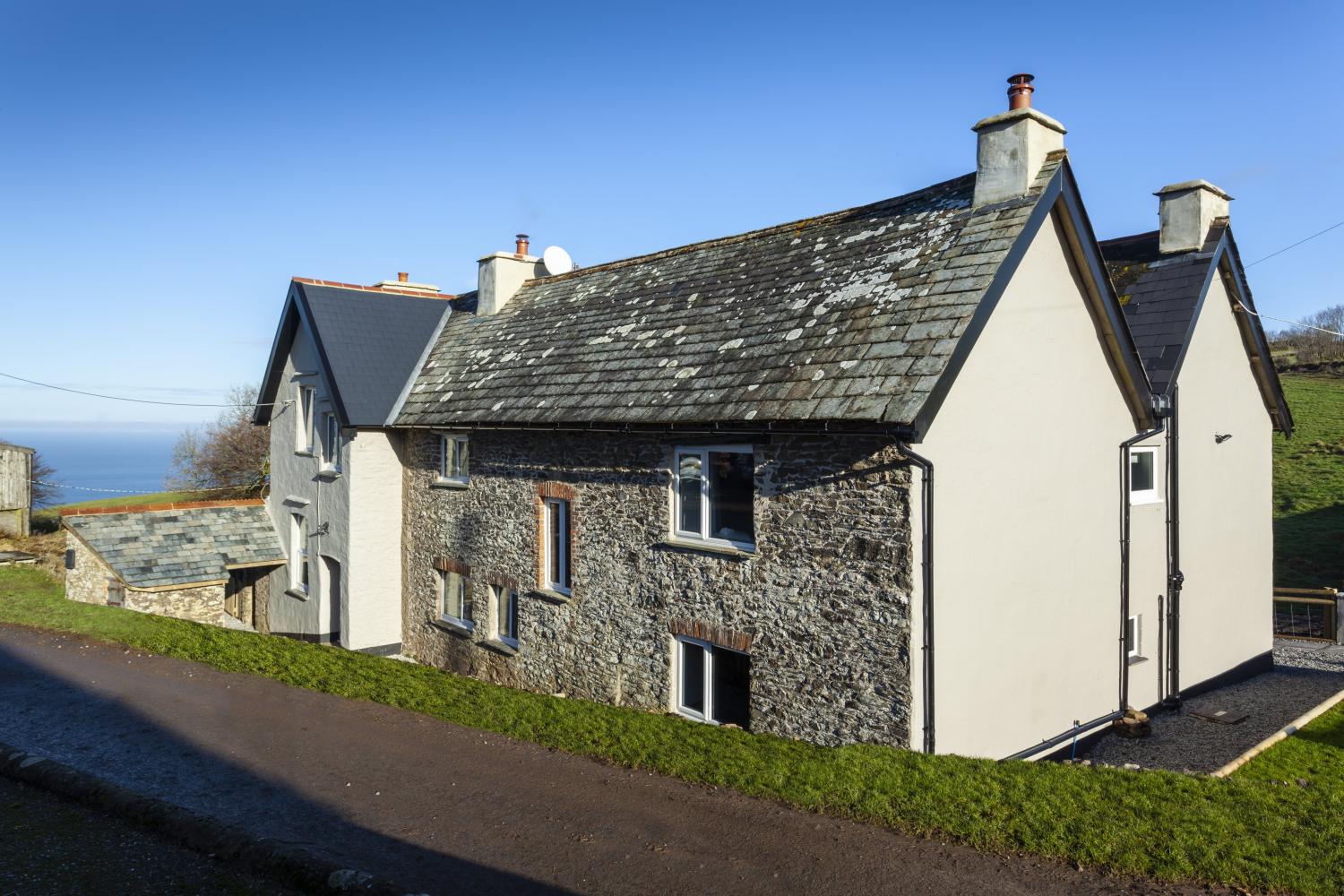 Floor Plans
No floor plans available.
---
Key
Booked

Colour

Possible arrival days

Available

Best value arrival day
for a 7 night break
8 Guests maximum. Infants don't count toward the number of guests.