The Lynton and Lynmouth Cliff Railway is the highest and steepest water powered railway in the world. Quite some claim to fame! Who would have thought it, quiet little Exmoor has it's very own World Number 1. But forgetting that, there are many other reasons that this funny little railway is well worth a visit. Firstly, if you actually want to travel between Lynton and Lynmouth, this will certainly do the job. Secondly, if you're after a great spot for a view of the coast, this will be hard to beat. Especially when you get to the top, where you can enjoy a cream tea at the Cliff Top Cafe. Certainly, everyone who visits seems to have a great time – have a look at some recent TripAdvisor reviews if you're not yet convinced.
If you haven't already come across the North Devon coastal towns of Lynton and Lynmouth, you will be in for a pleasant surprise. Not unusually described as the 'Little Switzerland' of the UK, these charming towns sit comfortably nestled the steep cliffs, with winding streets, cute galleries and cafes and wonderful woodland walks. So there's plenty to see before and after a trip on the railway.
Lynton & Lynmouth Cliff Railway Opening Times & Prices
You can ride on the carriages from February until November (10th Feb 2018 to 9th Nov 2018). Open from 10 am, rides continue until the evening. For more information on opening times follow this link. 
An adult return ticket costs £3.90. It is also possible to buy an unlimited daily (£10) or weekly (£20) pass. Children's prices are at reduced rates. You can bring bicycles, baggage and even the dog!
Origins of the Railway
The steep and rugged terrain here caused great challenges to the running and development of the towns here. With minimal road links, this remote area was mostly dependent on sea delivers for essentials such as food, coal and other supplies back in the 19th century. Packhorses would then complete the journey, pulling carts up to Lynton along steeps paths.
Proposals were suggested for a rail-based lift, with work beginning in 1887. Less than three years later, the work was completed, allowing for the transportation of people and goods. Opened in 1890, the busy little funicular has been operating ever since.
How does it work?
You don't have to worry about your carbon footprint for this one! The ingenious design uses the weight of water fed from the West Lyn River to power the movement of the two carriages. Joined by a continuous cable, the carriages are each several tons, counterbalancing each other over the pulley system. River water is fed into tanks under the floor of the upper car, with water discharged from the upper car until the top carriage is heavier than the bottom one. The top carriage consequently starts to descend and vice versa, a brakeman controlling the speed from each car.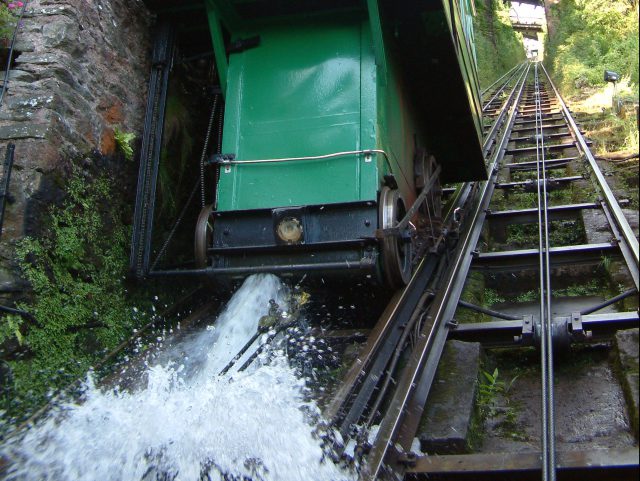 Accommodation near Lynton and Lynmouth
We hope you find this information handy. If you want to come and stay around here, for self-catering holiday cottages near Lynton and Lynmouth, have a look at a few options below;
Click here for more information on the above and to see over 140 cottages available across Exmoor 
Related posts;
Our Top 10 Things to Do on Exmoor
Exmoor Places to Visit & Village Guides
All Things to Do across Exmoor