An orphaned wild Exmoor foal was found out on the moor on the 6th September, next to her deceased mother. Although apparently healthy enough, at only 2-4 weeks of age, the little foal stood no chance of survival without some form of intervention.
This little one was lucky to have been found by the right people – Dawn and Nick Westcott,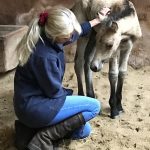 founders of the 'Exmoor Pony Project,' were the first on the scene. The project helps give some of the free-born Moorland Exmoor foals a good start in life and to support, encourage and promote the Moorland breeders and herds of Exmoor National Park who share like-minded objectives in wanting to safeguard the future of pedigree, purebred and cross-bred Exmoor ponies.
Finding a young orphaned foal, however, is not a current event even for Nick and Dawn – and certainly, the input required to help one through to adulthood no mean feat. Huge resources of time and money will be required to raise this little foal, but they have decided to give her a chance.
They have named her 'Lady Luna' (as she was discovered during a full moon) and launched an appeal to fund to help with some of the cost involved.
"Bags of mare replacement milk cost around £120 a time and as well as a number of these over the coming weeks, Luna will also need foal creep pellets," she said.
"The costs of her initial rehabilitation, ongoing care, management and development – including feed, bedding, vet, registration, wormers, equipment etc – will easily run into a few thousand pounds.
For anyone interested in donating, you can do so here.
Visits and Events at the Exmoor Pony Project:- 
If you would like to arrange a tailored visit to the Exmoor Pony Project, please email dawnwestcott@hotmail.com. As a working farm, they are not open to the public. However they can make arrangements for special visits/tour of ponies when possible, and at a reasonable cost. Proceeds help with the running of the project.