The famous annual event of Dunster by Candlelight will certainly serve to get you in the Christmas spirit. Dunster descends into darkness… well not quite, more like a warm ambient glow, as the whole village uses lanterns and candles to celebrate the days of old. The roads are closed to traffic and various performances and shows laid on. The event is free, as it is sponsored by the Dunster traders who historically found business hard through the winter months. The only cost involved is getting a short bus from the nearby villages (a shuttle-bus type system is organised as there is no on-site parking available). If you fancy coming along, please get spending to show your support!
When is Dunster by Candlelight?
Held on the first Friday and Saturday of December each year, the upcoming Dunster by Candlelight will be:
Friday 4th December 2020 5pm – 9 pm 
Saturday 5th December 2020 4pm – 9pm
What to expect
There will be a lantern lighting procession on Friday (starting at 6 pm on the Steep) and a soldiers procession with flaming torches and drums on Saturday (starting on West Street at about 7 pm).
Other acts and performances may include:
Bowlore Flaming Swords – stunning medieval displays
Mitchell and Vincent Acoustic Duo – folk duo based in the South West.
Jonathan Weeks – musician of medieval instruments
Mr Mommet Punch & Judy Show – performing in the Tithe Barn this year
Sutton Household – medieval re-enactment, very befitting for this medieval village
West Somerset Morris Men – great for getting you in the dancing spirit
Gifford Circus – a packed and rowdy bunch of performers conjuring magical fun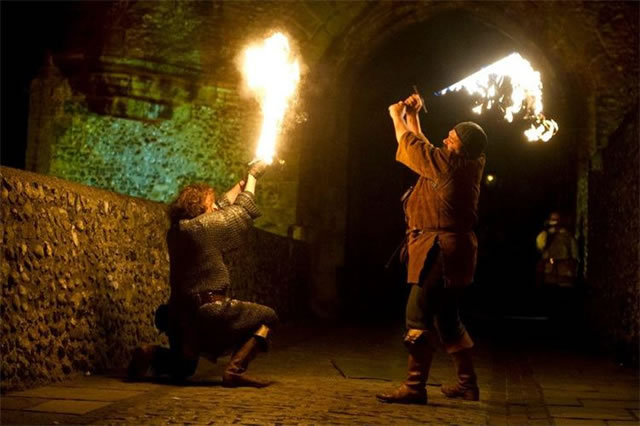 2020 details are yet to be released, but for an idea of what's to come, have a look at the itinerary from previous years:
A concert inside the Priory Church of St George on
Friday 1st December 2017
6pm – 6:45pm – Minehead Choral Group and Friends
7:15pm – 8pm – Dynamix an Acapella Group
Saturday 2nd December
6pm – 6:45pm – A Company of Voices and Exe Valley Voices
7:15pm – 8pm – Christmas Music by Talholme Consort Recorder Group. As well as listening to their playing, a chance to join them in a Carol or two.
There is nothing quite like some fire-lit frivolities to warm up the winter months!
Dunster by Candlelight Program
---
Dunster by Candlelight Accommodation
Below is a selection of self-catering holiday cottages offering accommodation over Dunster by Candlelight.
One Grooms Cottage
Two Grooms Cottage
The Hideaway
Priory Cottage
The Oval
Number 4 St Georges
All cottages in and around Dunster

If you are interested in looking at our other properties in the surrounding villages or across the whole of Exmoor, see the remainder of our collection 
here
---
For a quick taster, see the video below
Other posts you may also be interested in: