There is nothing quite like finding the perfect holiday cottage break that the whole family can enjoy, tails included. A dog-friendly holiday cottage doesn't need to come at the expense of top standards. Whether you are after exquisite interior design, characterful cottage charm, or a setting fit for a film set, we think you'll love these Exmoor gems.
Exmoor is full of lovers of the outdoors, with animals generally an integral part of life here. Consequently, it's not hard to find a dog-friendly pub or tea room with a doggy water bowl ready for thirsty four-legged customers. A huge draw for dog owners across the country is the incredible walking here. From open moorland to wooded valleys, craggy coastal footpaths and forestry footpaths, you could live on Exmoor for a lifetime and still find new places to explore on foot.
So if that doesn't whet your appetite enough, have a look at a few absolutely stunning self-catering cottages below. This is by no means an exhaustive list of our dog-friendly cottages on Exmoor, use the links for more inspiration.

---
A superb spot for 6, with a hot tub
Stone Cottage, Minehead. Accommodation for 6 guests up in the beautiful old part of town. Nothing quite says 'holiday luxury' like spending all day walking in the most stunning part of the world followed by a bubbly hot tub wind-down each evening.

---
A luxury dog-friendly cottage for 2 in Porlock Weir
If you're after a dog-friendly romantic retreat, this a wonderful spot for a mini-break to remember, or why not stay a little longer? The sea view from the kitchen sink is to die for – suddenly, washing-up isn't such a chore…

---
A 2 bedroom beauty in Bratton
From a pink and pretty rose arch to an apple orchard garden, if you're after a quintessentially English country cottage then look no further than Winder Cottage. This dog-friendly cottage is in Bratton near Minehead, sleeping 4 guests in 2 bedrooms. There are great walks from the door to Selworthy, North Hill, or on to the South West Coast Path.

---
A characterful cottage away from it all
Cascade cottage near Exford sits up high in the heart of Exmoor National Park, a wonderful rural retreat complete with a babbling brook just outside the front door.

---
Dog-friendly accommodation near Dulverton
The Old School House in Brushford near Dulverton sleeps 6 guests in 3 bedrooms. With wonderful walks from the door, an enclosed garden and great pubs and restaurants within easy reach, this is a great home from home on the southern edge of Exmoor.

---
A stunning country home with 15 bedrooms
We can't help but include this gorgeous country home in our top 10. Yes, that's right, accommodation for up to 30 guests and it's pet-friendly too! A real show-stopper, why not bear this one in mind for your next family gathering? Or round up the mates? Surprisingly good value, Bossington Hall is in a league of its own when it comes to self-catering holiday accommodation.

---
An idyllic coastal retreat for 4
Our top tip for this property – book well in advance to nab a break here. Once you've stayed in St Anthony's Cottage, Porlock Weir, you will simply be on the lookout for the next available break to come back. A large garden and spectacular sea views set the tone for a tranquil, spacious seaside break.

---
Tropical paradise on the Somerset coast
A unique property sleeping 7 guests in Porlock Weir. Chapel Knap is a one-of-a-kind house, with an equally impressive garden. Exotic plants, sweeping sea views and stately features offer an enchanting accommodation experience quite unlike any other.

---
A delightful Devon farmhouse
Bratton Mill Farmhouse combines classic rural living with top quality finishings for up to eight guests. Mature riverside gardens lead into open countryside of the stunning North Devon region.

---
All the best features for a luxury cottage retreat
Beautiful beams, wood burning stove, a roll top bath, fourposter bed, pretty garden and a hot tub… do I need to go on? Hard to be believed, but yes, we do indeed have a cottage that ticks all those boxes. And let's not forget, it's dog-friendly too! The Old Sweet Shop in Minehead has plenty to tempt to

---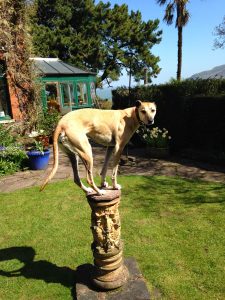 Mousie Lister, our Chief Walks Consultant. Seen here checking out the view (and showing off a little) in Chapel Knap gardens, Porlock Weir.