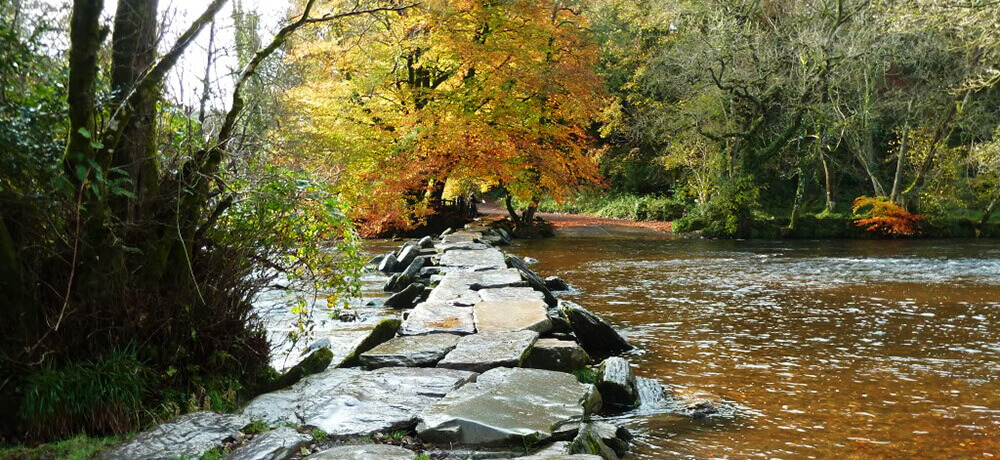 Beautiful, iconic and ancient – the Tarr Steps are well worth a visit if you have made it to Exmoor National Park. This "clapper bridge" is the longest and oldest of its kind in Great Britain, dating back hundreds if not thousands of years.
What is a clapper bridge?
A 'clapper bridge' is formed by arranging huge slabs over stacks of stones. No mortar, cement or effort in design is required (although effort in finding and moving the slabs would certainly have been no mean feat, with slabs weighing up to several tons!) This technique has allowed people to form bridges over shallow streams and fords long before stone arches or cementing methods were understood.
History and legend of the Tarr Steps
There is no definite date of origin to the Tarr Steps, with various theories to support different ages. Some date it back as far as 1000BCE of the Bronze Age. The official listing is to the medieval period.
One rationale for the suggestion of a prehistoric date includes evidence that a number of prehistoric tracks coverage here, although the presence of a bridge as a result of this remains debatable. Secondly, dating it by the place-name association of "Tarr." The Celtic "Tochar" or "Toher" means "causeway" (across water).
For more of the juicy details, local legend has it that the Steps were first laid by the devil. Obviously, the locals of the time weren't too happy to have the devil in their midst, particularly as he wouldn't allow anyone to cross here. Witnesses observed a black cat attempt the crossing, only to disappear in a puff of smoke midway. The Vicar somewhat bravely decided to try his luck. Following a mid-bridge confrontation, with much gesticulating and intimidation, the devil backed down. It was subsequently agreed that anyone could cross unharmed. He did, however, request the right to sunbathe on the stones should he fancy it.
Tarr Steps Facts
The Tarr Steps are a scheduled monument
Medieval Latin "claperius" means "pile of stones"
It is the largest example of a clapper bridge
There are 17 spans
The total length across is 50 metres (55 yds)
The slabs are 1-2 tons
The largest slab is 2.5 by 1.5 meters
Damage to the Tarr Steps
Although there have been a few periods of damage over the years, the bridge has been successfully repaired on each occasion. Storms with heavy rainfall have resulted in heavy debris being washed down the river. This has then managed to dislodge the massive slabs, washing them downstream.
Floods in the winter of 1941-1942 saw the middle section washed away. The Somerset Archaeological and Natural History Society and the Royal Engineers fully restored the bridge in 1952, with reconstruction complete and apparently authentic. Further damage was sustained in 2012 and 2016, and again in 2017
Steel cables are now positioned upriver to help reduce the amount of debris reaching the bridge.
Where are the Tarr Steps?
The Tarr Steps are situated towards the southern aspect of Exmoor, near Withypool, some five miles from the large town of Dulverton. There's a car park and toilets close to the bridge, reached from the B3223 road (Withypool to Dulverton).
Use postcode TA229QA for Sat Nav directions.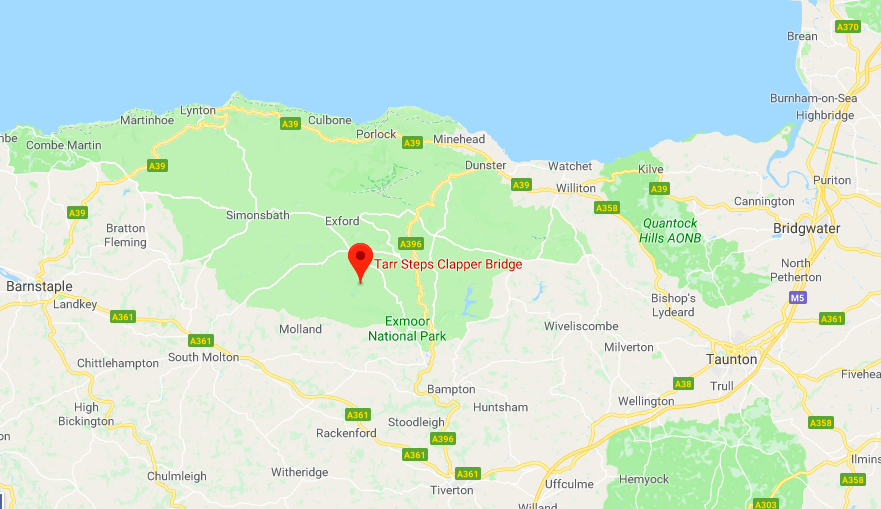 Tarr Steps Woodland National Nature Reserve
The neighbouring woodlands also have much to offer visitors, as a habitat for a variety of wildlife. Mosses, liverworts and lichens have international significance here, where they flourish in the clean damp air. Red deer, dormice, the rare Barbastelle Bat and otter reside here. Find out more on Exmoor's woodland wildlife
Things to do near Tarr Steps
Why not visit nearby Withypool Hill stone barrow, another pre-historic relic thousands of years old. Browse all Things to Do on Exmoor, or choose one of our Top 10 Things to Do on Exmoor
A short circular walk along the River Barle
Well marked footpaths allow you to explore the woodland around Tarr Steps. Paths run along the valley between Simonsbath and Dulverton and to the village of Withypool. For a short circular walk, you can walk along the riverbank for about a mile to a footbridge. Here you can cross the river and return on the other side, finally making the most of the clapper bridge for your final crossing.
A longer circular walk from the Tarr Steps
Starting at the pub, walk down to Tarr Steps and turn right. This takes you onto a path running north along the river. Follow this for two miles, winding along by the river banks through a woodland teeming with life.
Once you reach an area of open grassland, head right diagonally across the field, then uphill. Turn left through a gate halfway up the hill to a path through woodland.
Continue following this path through several more gates to the road, turn left here to walk into Withypool.
Pass the Royal Oak Inn and tea rooms, crossing over Withypool Bridge.
Carry on uphill towards Hawkridge, the climb offering you great views over the Exmoor countryside. You will cross a second cattle grid (ignore left signs to Tarr Steps here) then carry on downhill.
Pass Westwater Farm before turning onto a path signed to Tarr Steps. Follow signs over fields and stiles to Parsonage Farm, then turn a sharp left and on through a gate. A little way further down the hill, turn right then turn left out onto the lane. Follow this to Tarr Steps, where you can finally cross this incredible bridge before you make it to the pub for a well-deserved pint!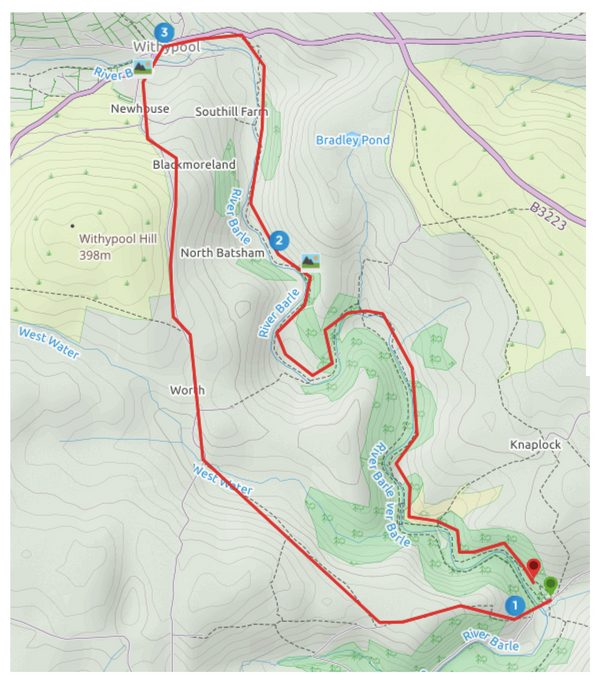 Places to stay near Tarr Steps
There is so much to explore across Exmoor, it's well worth at least a few days visit. In fact, a recent survey by the Exmoor National Park Authority showed that 86% of visitors intend to return! Here are a few examples of cottages available for self-catering accommodation within a few miles of the Tarr Steps.
Follow this link for the full collection of characterful cottages available for short breaks and longer stays on Exmoor.

You may also be interested in:
WImbleball Lake | Visitor Information
Exmoor Driving Route | A Day Out on East Exmoor
Our Top 10 Things to Do on Exmoor
Dunster Castle & Gardens | Visitor Information