Wimbleball Lake Visitor Information
A stunning spot towards the South East of Exmoor, Wimbleball Lake is well worth a visit. A reservoir lake, the area is open to the public for watersports, walking and other outdoor activities. Managed by the charity the South West Lakes Trust, the site is promoted for recreational use by the public, so come along! There are facilities such as changing rooms and showers available, as well as a cafe and children's play area.
Telephone numbers: Wimbleball Watersports Centre 01398 371 460 Head Office 01566 771930
Wimbleball Lake Kayaking and Other Activities
There are loads of options for activities on and off the water. These include stand up paddleboarding, canoeing, sailing, windsurfing if you want to get wet. Around the lake, archery, high ropes, climbing and fishing are also available. Have a look at the South West Lakes Trust website for availability and booking
The Wimbleball Lake Cafe – The Duck Cafe
Pop into The Duck Cafe, which offers great food and is dog-friendly. They offer wholesome fresh local food, from warming home-made soups, to salads pies and quiches. Don't forget the locally made icecreams on happy hot summer days! Or if it's getting nippy, perhaps get close to the cosy wood burner with a hot chocolate.
Wimbleball Lake Walks
There are miles of footpaths, tracks and bridleways to suit all ages and abilities. Whether you are looking for a leisurely stroll, active cycle ride or more challenging walk, there is something for everyone. Cyclists are welcome to bring along there own bikes.
A 30-minute walk (just over a mile) takes you to the dam, which makes a nice there-and-back route. For a more substantial walk, you can walk the entire perimeter of the lake. Spend about 3 hours on 'The Lakeside Round Walk' – 9 miles (14.5km). Both start from the on-site café car park. Again, to help preserve and encourage the presence of varied species of wildlife here, dogs must be kept on leads.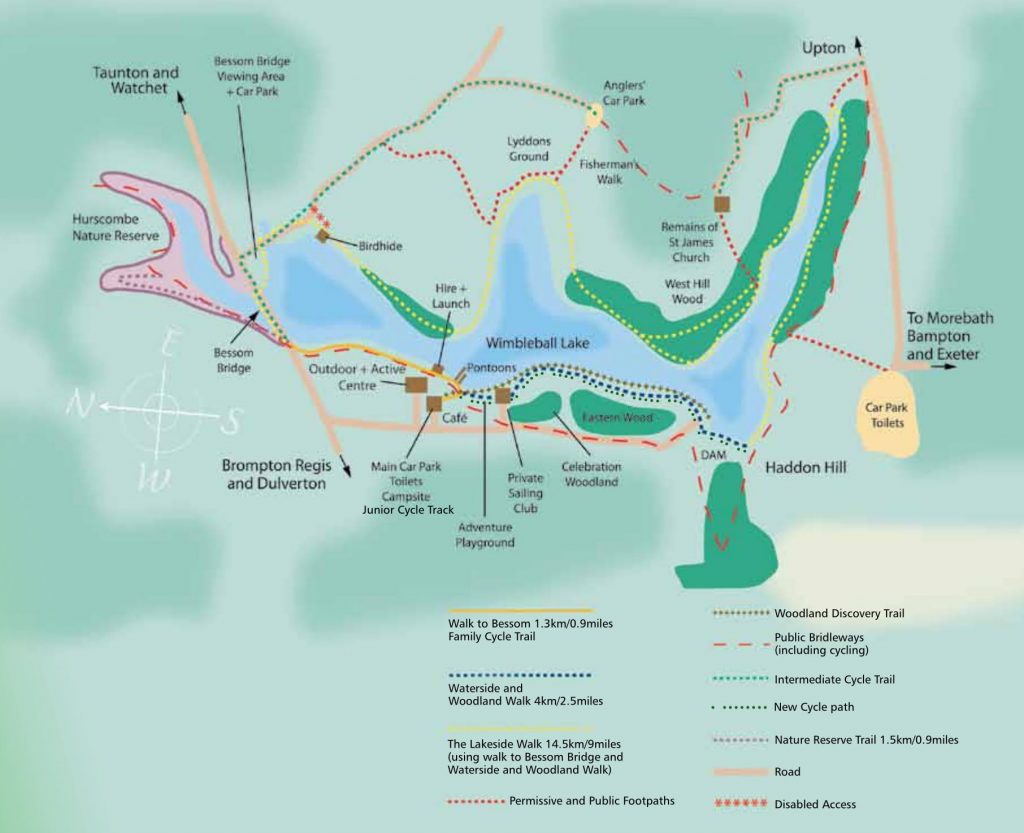 Bird Watching and Wildlife
Regular volunteers assist the dedicated site team in maintaining the Wimbleball area for the benefit of indigenous wildlife. Hedge laying, coppicing and meadow management benefit red deer, hedgehogs, bats and kestrel. Other common birds you will be likely to see include Canada Geese and Mallard. The best areas for bird watching are Ruggs Bay, located within the nature reserve. Other wildlife includes weasels and hedgehogs, Plants abundant here are bluebells, bugle and red campion.
Wimbleball Lake Fishing
Fishing is for Rainbow and Brown Trout at this fly fishery. There are many bays and inlets to explore across the 370 acres of water. There are great hatches of flies throughout the season providing fantastic sport both subsurface and on top of the water.  There is also a mayfly hatch in the summer which is a spectacle! For more information please go to www.swlakesfishing.co.uk or visit the permit kiosk at the activity centre.
Bringing Dogs to Wimbleball Lake
Dogs are welcome but must be kept on leads and out of the water. There is an enclosed dog exercise area just above the sailing club, and dog washing facilities are available at the campsite. If you are up for the challenge, dogs are in fact allowed on the kayaks and canoes, as long as they do not enter the water… good luck!
Swimming in Wimbleball Lake
Sadly, swimming in the lake is not permitted, for health and safety reasons. However, there is restricted access for registered athletes and periodically open water swimming events are held in the lake. Check out exmoorswim for more information.
Facts and Interesting Information
What is the capacity of the reservoir when full? 21,320 megalitres
What is the distance around the lake? Approximately 9 miles
How deep is the reservoir? 50m
How long is the reservoir? 4 Kilometres
When was Wimbleball Lake built? 1978
Where is Wimbleball Lake?
Wimbleball Lake is only about a 15min drive from Wheddon Cross.
Postcode: TA22 9NU
Address: Brompton Regis, Dulverton, Somerset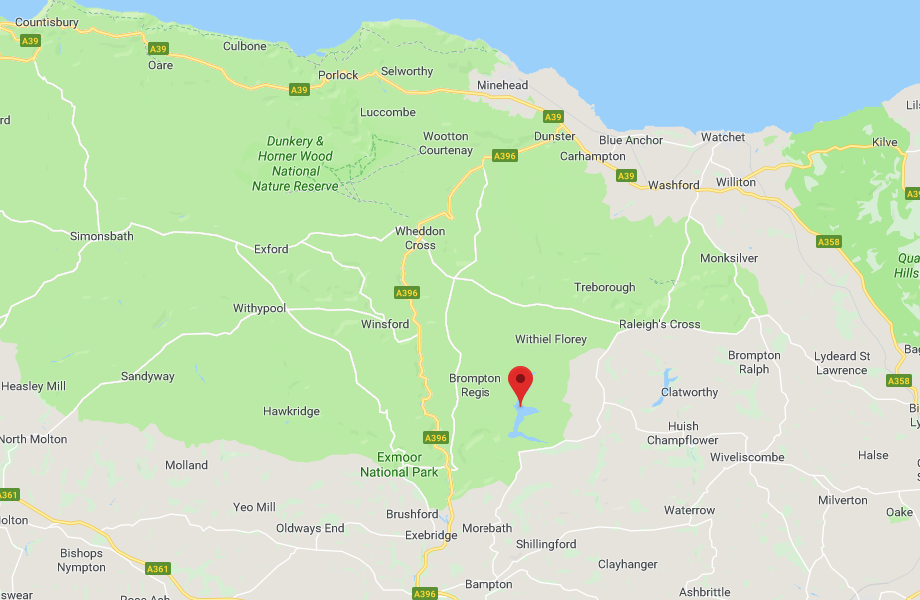 Accommodation near Wimbleball Lake
Lower Goosemoor Cottage sleeps up to 4 guests in 2 bedrooms. Set in a small valley with an idyllic stream running by
Upcott Farm House sleeps up to 14-16 guests in 7 bedrooms. With a covered pool for whatever the weather.
West Huckham Barn sleeps up to 5 guests in 3 bedrooms. Beautiful views across the Quarm Valley.
For other options of accommodation near Wimbleball Lake and across Exmoor National Park:
Follow the link below to see over 150 holiday cottages available for self-catering accommodation across Exmoor.

Other posts you may be interested in: