The perfectly picturesque village of Dunster is a must on the list for any visitor to Exmoor. Quaint cottages and a quintessentially English vibe meet iconic, imposing grandeur (a castle, no less) – what a combination! You can find yourself popping into charming tea rooms and country pubs, then stumbling across historic structures and a working watermill.
Follow your village explorings with a decent walk up into the various hills with breathtaking views, or head down to the beach for a stroll in the fresh sea air.
I used to live in Dunster and never grew tired of this beautiful spot. As a bit of a guide for anyone visiting, I have put some information together below to get you started…
And don't just take my word for it; here's a tour from the fabulous travel bloggers 'Memory Seekers' showcasing this special spot.
Here's why Dunster is the perfect staycation destination;
1. There is no shortage of history & culture
Perhaps the best preserved medieval villages in England, there are plenty of historical features to discover. Start at the 'Yarn Market' – a little monument of Dunster's ancient past. This small octagonal structure built around a central pier would have provided people shelter from the rain for hundreds of years. Here wool and then cloth was traded, from the 12th to 17th centuries.  There is information on the inner walls to help bring your imagination back to the days of old.
2. You can wander beautiful winding streets
Continue down the high street, getting your bearings by having an amble. Despite oodles of history and many extraordinary features, Dunster is only small; it won't take you long to amble from end to end. There are around 200 listed buildings here, so much is well preserved over the years and well worth admiring.
Following on through to the end of the village, stay left, and you will find the picture-perfect Gallox bridge. The stream below spreads out to form a shallowish ford, perfect for little ones to splash in wellies or the dog to have a quick paddle about.

4. Visit Dunster Castle and its tropical grounds.
Not to be missed, make sure you fit a visit to the castle. This ancient castle, and more recently Victorian country home, is now run by the National Trust and open to the public. Read more on Dunster Castle here.
4. You can see a working watermill in action
Following your castle tour, continue to another impressive relic of Dunster's ancient past; a working watermill.
5. There are cream teas and cafes galore!
Cream tea, anyone? Ooo why not! There are plenty of spots for an indulgent cream tea or tasty lunch.
Cobblestones are a great little cafe for lunch on the High Street, with a lovely garden. Tessa's Tea Shop (The Olde House) serve homemade soda bread and a have a wide selection of gluten-free choices. There's also Castle Coffee House (garden and patio, pet-friendly) and the lovely Locks Tea Room.
Follow the narrow, single-lane section of the village through to West Street, where there are a few more options if you're still peckish. The Tea Room at Chapel House on West Street serves delicious lunch food served by great hosts.
6. You can browse the boutique, homely local shops
I adore the shops here, each with its unique style. From rustic homewares to ethnic accessories, traditional sweet shops to local artists' galleries… Pop in and shop, or just browse the vibes.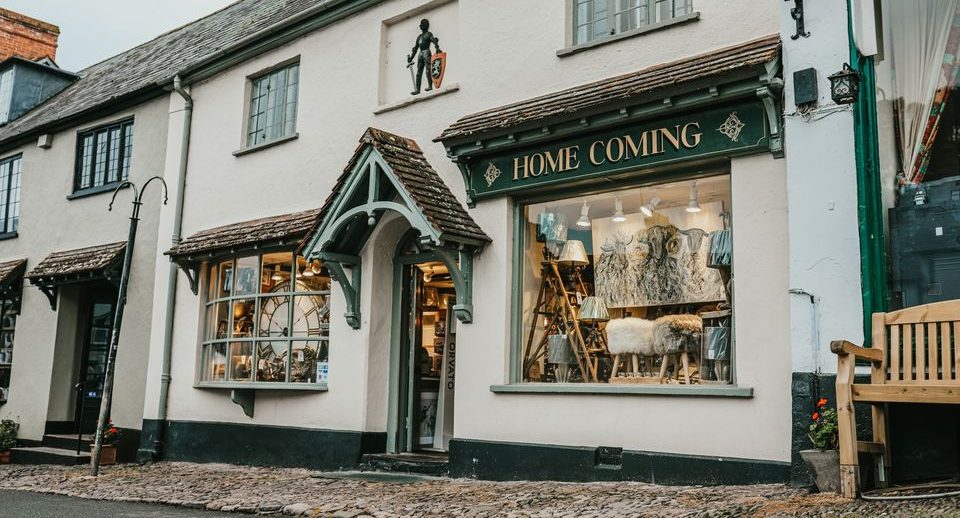 7. Take a walk in the hills
From short walks to epic hikes, there is no shortage of walking nearby.
Over and beyond Gallox Bridge will lead you to an expanse of paths and space for walking and exploring through the Crown Estate. Keep left to find yourself in The Deer Park, for open grassland and rolling hillocks. Or to the right, climb to the top of the hill for stunning views across the Castle and the sea beyond.
Alternatively, head up Grabbist hill for another good puff of decent ascent.
Follow this link for a 4.3mile circular walk from Dunster
8. You can dine out in style
As the evening draws in, head out for a candlelit meal. My personal favourite is the lovely Reeves restaurant, combining a soft, warm ambience with excellent food – winner of Somerset's Best Chef award 2015.
The Luttrell Arms sits directly opposite the Yarn Market; they have a bar and a more formal dining area. The Stags Head is a traditional 15th-century inn on West Street, serving good pub food. Hathaway's restaurant is lovely for a candlelit dinner, or head further to The Foresters for good local ales.
9. The rest of the incredible Exmoor is on your doorstep
If you stay for a few days, you are perfectly located to get out and about across Exmoor National Park. So have a look below for more ideas on things to do;
History of Dunster
So given that we keep referring to all this incredible history let's talk about how it all began.
Many thousands of years ago (yes, literally thousands!), hill forts were built and inhabited within a short distance of Dunster. Remnants of these iron-age dwellings are still present today; take a hike to the top of the hill to the south of the village and see them for yourself (and admire the incredible views!)
However, this is not the root of Dunster as we know it today, so let's talk more about that…
Around 700 AD, the Saxons established the original settlement (initially known as 'Torre' with the prefix 'Duns' added a little later).
Shortly following this (and at least before 1086, as testified by the Doomsday Book!), the Norman warrior, 'Willam de Mohun,' built Dunster Castle. Originally a motte and bailey timber Castle, this has gone through various re-designs and makeovers over the centuries. Acquired by the Luttrell family in 1376, they continued to reside there for some 600 years. Now that's some impressive family inheritance! The Castle no doubt contributed to the bustle and vibrancy of Dunster over the years, as it continues to do so to this day.

Besides the Castle, Dunster also became famous for its flourishing wool trade. Initially yarn and fibres, later dyes and cloths, these helped Dunster proper by the early 13th century. Of course, as mentioned previously, the remarkable Yarn Market stands hommage to these times.
Other incredible buildings and structures include those of the Benedictine Dunster Priory, established around 1100. The Priory Church of St George, Dovecote, and Tithe Barn are all components that remain today in the center of the village.
Dunster Beach
Follow the road out of Dunster towards the sea, and you will cross under the A39 into Dunster Marsh. Dunster Beach lies beyond this. A large expanse of sand and shingle, the beach looks out over the Bristol channel to the Welsh shoreline. In around 30 minutes, you can walk along the beach to Minehead – pass Minehead Golf Course on your left.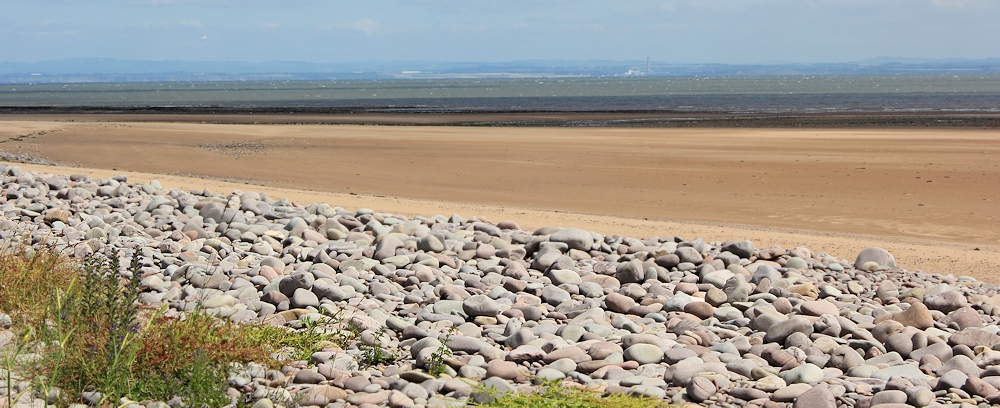 Dunster by Candlelight
Every year, the village hosts an enchanting event in December to help everyone get in the Christmas spirit. Through this celebration, the village is lit by lanterns and candlelight, with various acts and entertainment. Traders stay open into the evening, perfect for a bit of Christmas shopping.
See here for more information on Dunster by Candlelight.
Map of Dunster
Here's a handy map of Dunster and the surrounding hills.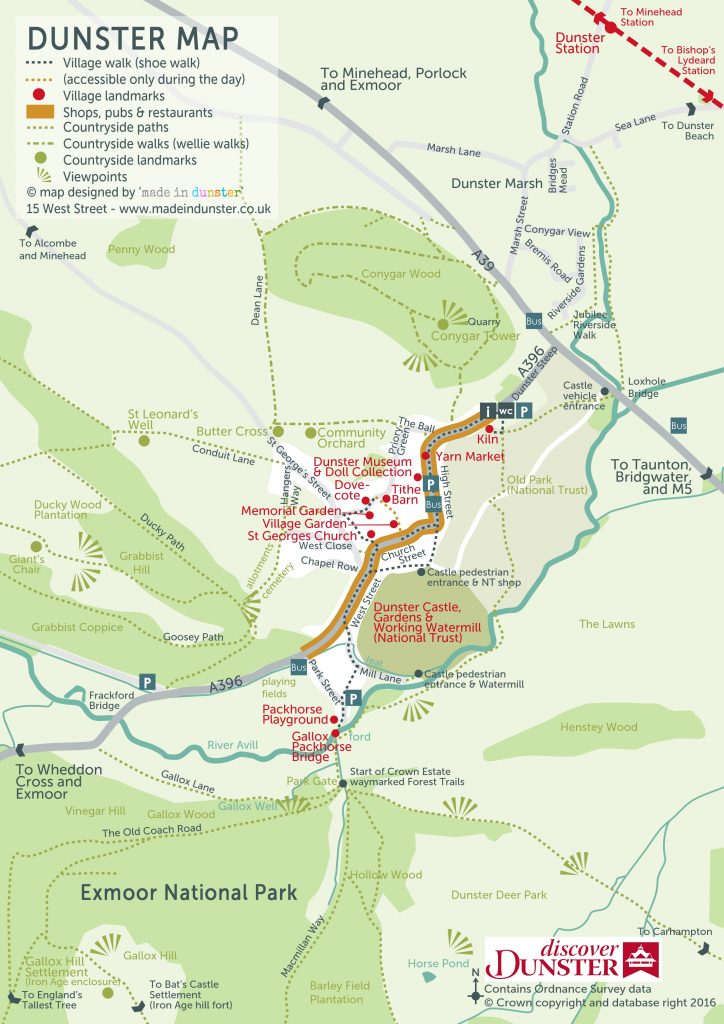 Self Catering Accommodation in Dunster
After all of that, you may well be on the hunt to find somewhere to come and stay so you can explore all of Dunster's delights yourself! If you are looking for somewhere to stay right in the heart of the village, these cottages below are within an easy walk to the center.
Grist Mill
Sleeping 6 (to 8 guests), a fabulous cottage near Gallox Bridge.
Pebble Cottage
Cosy and contemporary, a quiet spot for 4 guests with a beautiful garden.
One Grooms Cottage
Recently renovated three bedroom cottage, for up to 6 guests
Two Grooms Cottage
An interesting period property at the end of the high street. Spaciously accommodates up to 6 guests.
Ruffles Cottage
Cosy and traditional accommodation for up to 4 guests. Built in 1844 but updated with all the 'mod-cons' for a comfortable stay.
More Cottages in Dunster and beyond
Click here for a full list of holiday cottages in or near Dunster or follow the links below
Other posts you may be interested in
Exmoor has an abundance of options for holiday fun and spots to explore. Find out more on what's on offer here;