The South West Coast Path stretches for 630 miles, the longest way-marked footpath in the UK. Originating in Minehead, the trail hugs the coast to the furthest tip of Cornwall, then on down and round to Poole Harbour in Dorset. The dramatic and varied south-west coast is spectacular, contributing to the worldwide fame of this particular trail.  Whether your interests lie in walking, landscape, geology, history or nature, the South West Coast Path makes a fascinating journey. Here you will find nourishment aplenty for mind, body, and soul.

Origins of the South West Coast Path
The exact age of the coast path is unknown but has for many years been used by coastguards watching out for smugglers approaching the south-west peninsula. In evidence, are a series of coastguard cottages along the route providing a glimpse of their cliff-top look-outs. Until 1913, the Path was regularly patrolled, so frequent were the appearance of sea-faring trouble-makers. The route of the path reflects this, allowing good views into every bay and cove, rather than providing the most direct route between two points.
These days, the path is well maintained and signed for the benefit of anyone wishing to walk either a small stretch or undertake a more lengthy journey.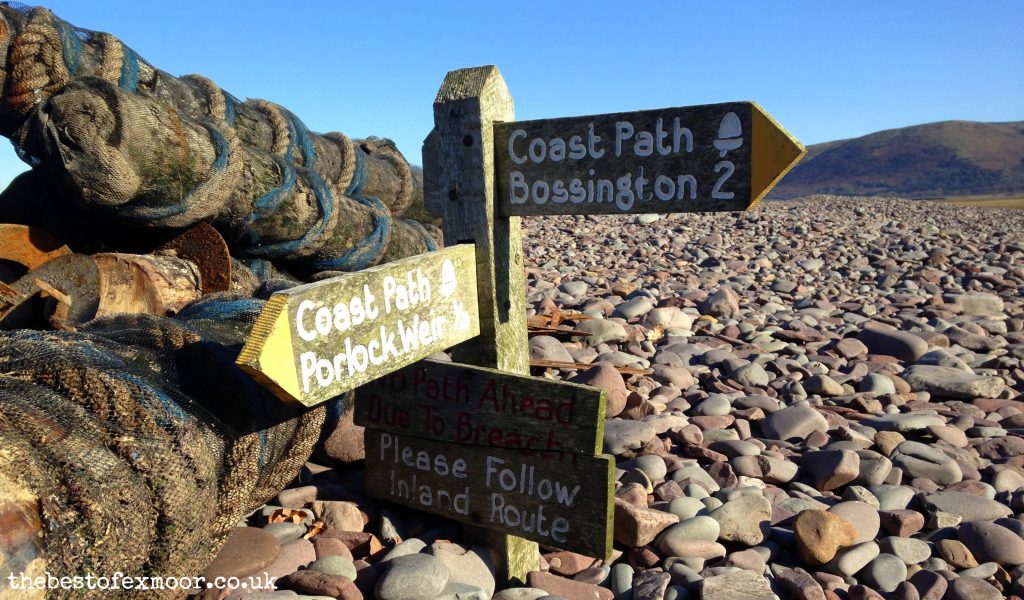 Exmoor Section of the South West Coast Path
Starting in Minehead, the path follows the harbour to Culver Cliff before zigzagging up through woodland. The path cuts inland past North Hill to enter Exmoor National Park, to Selworthy Beacon and Bossington Hill, to then regain the cliff top at Hurlstone Point. Follow this link for details on the Minehead to Hurlston Point section
Passing Bossington, the path follows the beach to Porlock Weir before connecting with the 'Coleridge Way.' The path passes the smallest parish church in England – Culbone Church. In a small clearing in the woods, this makes a magical scene for a thoughtful pause.
Crossing the border into Devon, Foreland Point marks the next large headland. (For a circular walk along the South West Coast Path here, see details on the Foreland Point Adventurous Walk.)
The path then reaches Lynmouth followed by the funicular railway link to Lynton on the hill above. Intersecting the Two Moors Way, the path then passes through the Valley of the Rocks.
Duty point, Lee Bay, Crock Point and Woody Bay follow, finally climbing the Great Hangman – the highest point of the path at 318m (1,043 ft). The cliff face here towers 244m (800ft) above sea level, claiming the title of highest cliff on mainland Britain.
The path carries on to Combe Martin, marking the end of it's journey through Exmoor National Park.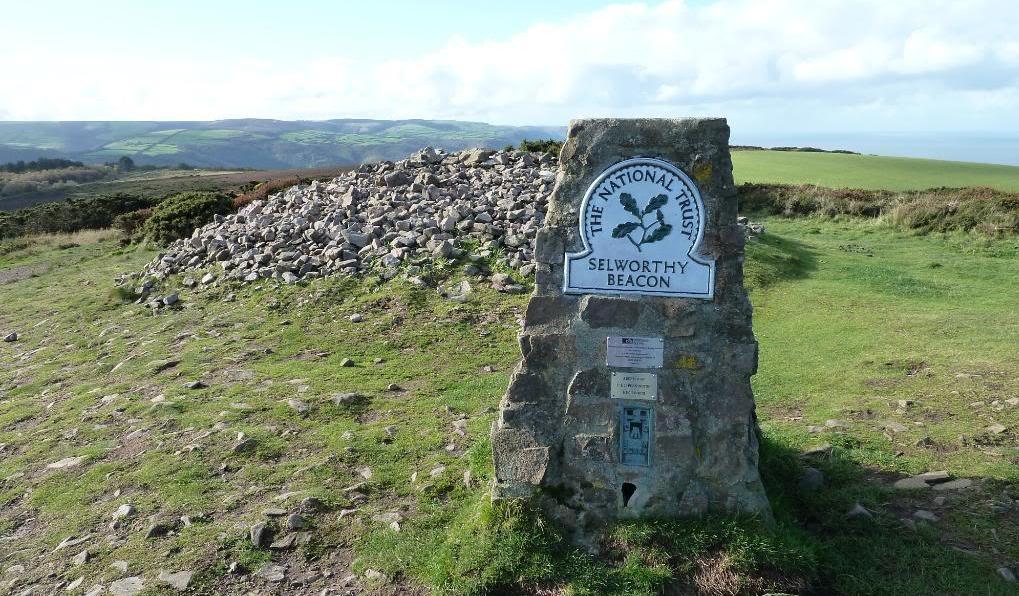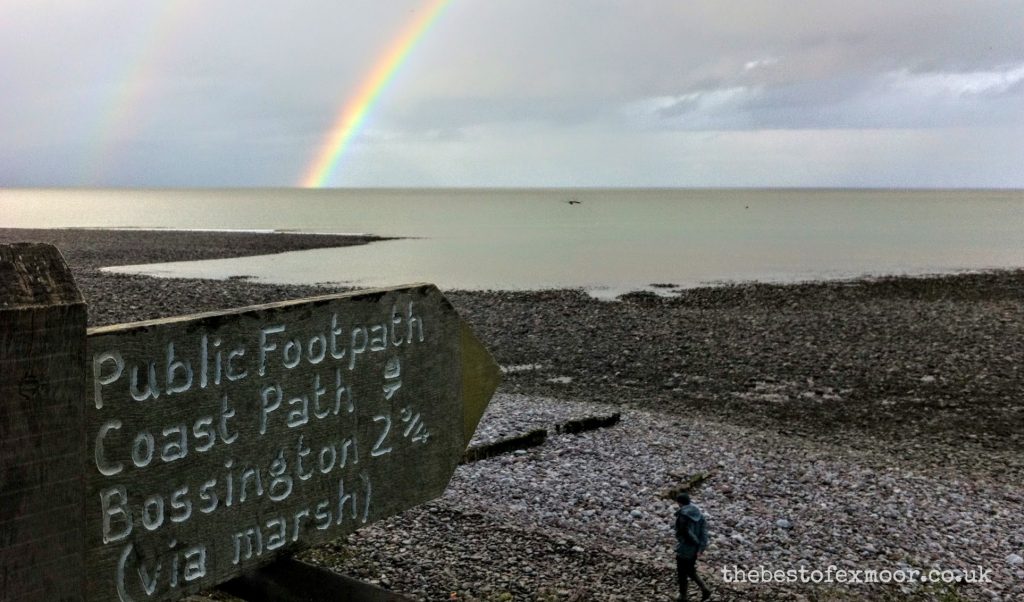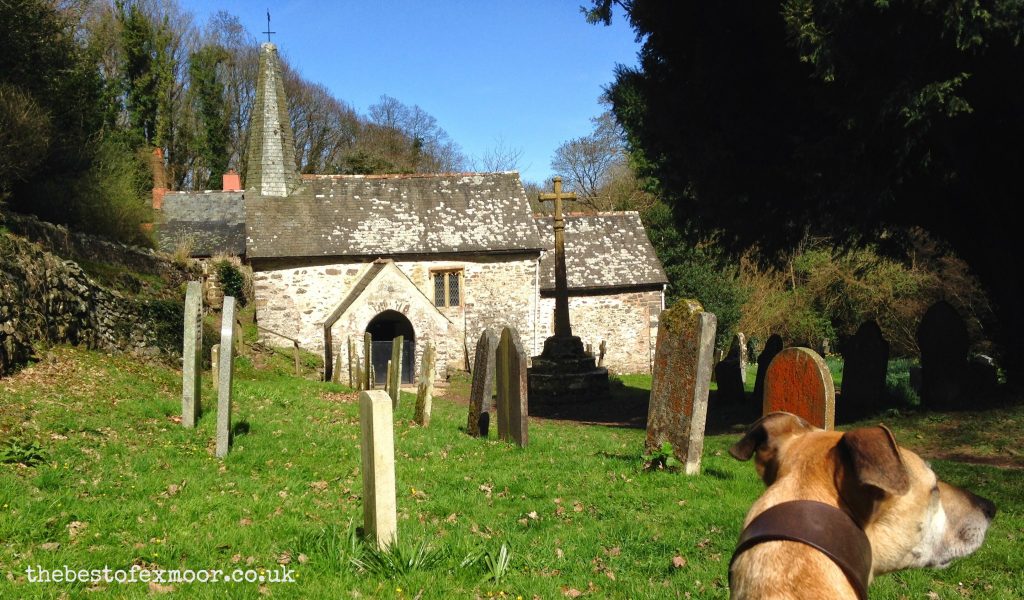 Interesting facts on the South West Coast Path
– Voted 'Britain's Best Walking Route' twice in a row by readers of 'Walk' magazine.
– Named as one of the worlds top 10 long-distance trails in the CNN travel guide.
– A total climbing height of almost four times Mount Everest! (Rising and falling for each river mouth, totalling 35,031ft)
– The Exmoor Coast gained recognition as a 'Heritage Coast' in 1991, for the outstanding scenery of ravines, waterfalls and towering cliffs.
– The path takes many walkers in the region of 8 weeks to complete, often divided into sections to return to over many years.
– The fastest known time to complete the path was set by GB ultra runner Damian Hall in May 2016, of 10 days, 15 hours and 18 minutes

Accommodation near the South West Coast Path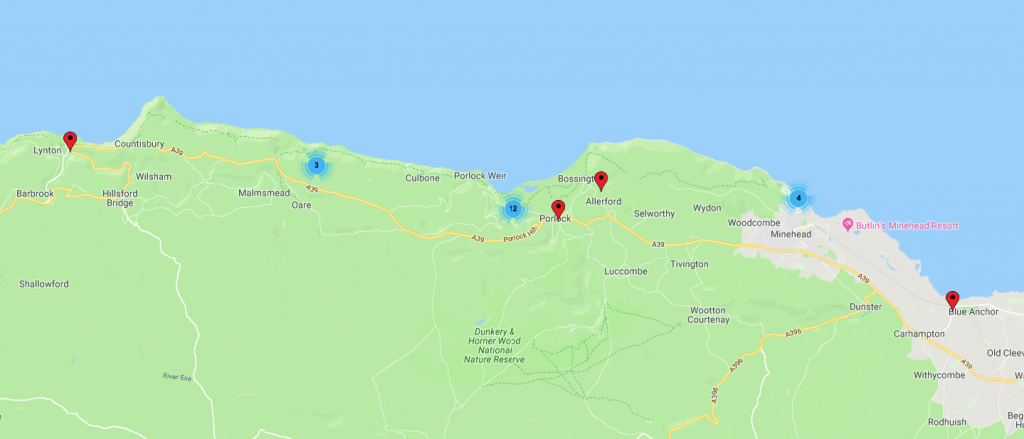 Click on the map above to see our collection of holiday cottages near the South West Coast Path
You may also be interested in: