Minehead is a bustling seaside town on the edge of Exmoor. A beautiful sandy beach, pretty harbour and highstreet busy with shops and cafes will get your started. See our top tips below for things to do in Minehead, from golf to guided walks, railways to restaurants, markets and more.
History of Minehead
A small port was present as early as 1380 in Minehead, which grew into a major trading centre in the medieval period. A large fire caused a knock-back to the town in 1791. However, fortunes then improved, with the town gaining interest and popularity through the rising trend of sea bathing. This lead to the area becoming recognised as an appealing place for retirement by 1851. Further development and building during the early 20th century resulted in the broad shopping avenue with adjacent Edwardian style architecture.
Things to do in Minehead
Visit Minehead beach
This vast expanse of sand is popular with many, whether families with kids with buckets and spades, water sports enthusiasts, or those after a pleasant stroll. There is easy parking, clean and tidy toilets, with a great view up to North Hill and across the Bristol Channel to Wales.
Dogs are allowed on the beach from October to April, from May and September dogs cannot use the beaches between the Harbour and the Minehead and West Somerset Golf Club.

Play Golf
Minehead boasts it's very own golf course. Right on the seafront, this classic links course is set against the rugged backdrop of the Brendon Hills with captivating sea views. For golf lovers seeking a great round in a superb location, this is the place. Further information here – Minehead and West Somerset Golf Club
Go for a Walk
The hills surrounding Minehead are rich with footpaths for exploring. North Hill, Grabbist and more can be walked to from the town, providing some excellent circular walks. The world-famous South West Coast Path starts its journey from Minehead. Also, there are countless further walks a short drive away – Exmoor is considered one of the best walking regions of the South West, offering a great variety of options for everyone from those seeking a quick breath of fresh air to the most seasoned of hikers. Also, the Quantocks Hills to the east also offers an extensive network of beautiful walking land.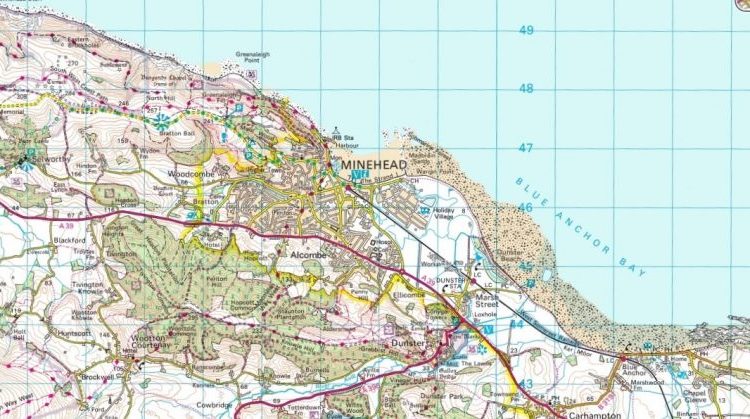 Guided Walks of Minehead
For an entertaining and informative experience of the town, why not try a guided walk. You can join a guide who can divulge stories of history and folklore, myths and legends and the places and people of Minehead. Departing from Minehead Information Center at 10 am.
Contact Minehead Information Centre on 01643702624, £2.50 per adult or £1 per child to find out when the next guided walk is available to join.
Stroll Through Blenheim Gardens
Some 6 acres of gardens laid out in the 1920s have developed over the years to offer a diverse selection of trees and shrubs. Beautiful flower borders prove some of the loveliest spring and summer bedding displays in Somerset. Bring a picnic if you fancy, or enjoy ice creams and snacks from the cafe. Musical events through July and August offer modern concerts on Saturdays and traditional brass band performances on Sundays.

Get Active Outdoors
Channel Adventure offer stand-up paddleboarding, kayaking, target sports, power kiting, beach challenge and much more.
Exmoor Adventures also offer local outdoor activities for groups or individuals such as Coasteering, Kayaking, Mountain Biking, Rock Climbing, Abseiling, Canoeing, Raft Building, Archery and more.
Ride on the West Somerset Railway
The longest heritage line in the UK, the West Somerset Railway is a popular activity that takes you on a nostalgic twenty-mile ride through the glorious countryside between Minehead and Bishops St Lydeard. There are plenty of extra seasonal options and fascinating excursions. For more information see West Somerset Railway.
Shop at Minehead Farmers Market
Every Friday from 8:30 until 2 pm there is the bustling Minehead Farmers Market. Here you can buy fresh local produce directly from the people who produce it, right in the centre of town. You can easily find everything you need for your weeks' shopping or more. Wander the market to find;
bread, pastries & cakes,
fish, lamb, pork, beef, venison, chicken, duck,
milk, cheese, butter & eggs
vegetables, strawberries, flowers, plants, herbs
chutney, jellies, jams
apple juice, beer
marshmallows, chocolate
gourmet food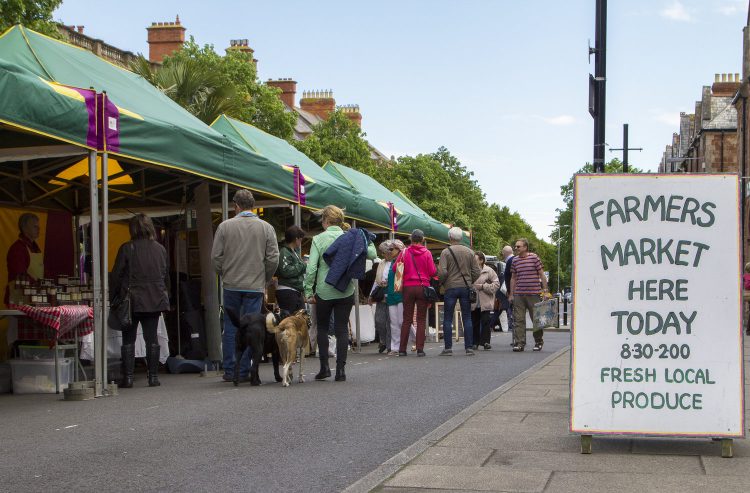 Places to eat in Minehead
For a few of the most popular restaurants and cafes as rated 'Excellent' on Tripadvisor, try
For more fantastic restaurants within a short drive of Minehead, try Reeves in Dunster, Kitnors Tea Room and many more.
Places to Stay in Minehead
There are hotels, B&Bs, and guesthouses available, with self-catering accommodation in holiday cottages becoming increasingly popular. A holiday cottage can be the ideal base; they allow couples, families or groups to visit a home from home, even bringing the dog if they so wish.
Whether you choose to stay in the town centre, out in the pretty outskirts of the town, or in a nearby picturesque village, there is something for everyone. The small cobbled winding streets towards the outskirts of the town are arguably the prettiest for staying in Minehead. From here, there are many a winding lane that takes you up to glorious views of the bay.
St Michael's Church, built in the 14th or 15th Century, can be found on the lower slopes of North Hill. You may access the church from the road or the quaint Church Steps, which is a footpath between thatched cottages, with stunning views across the town.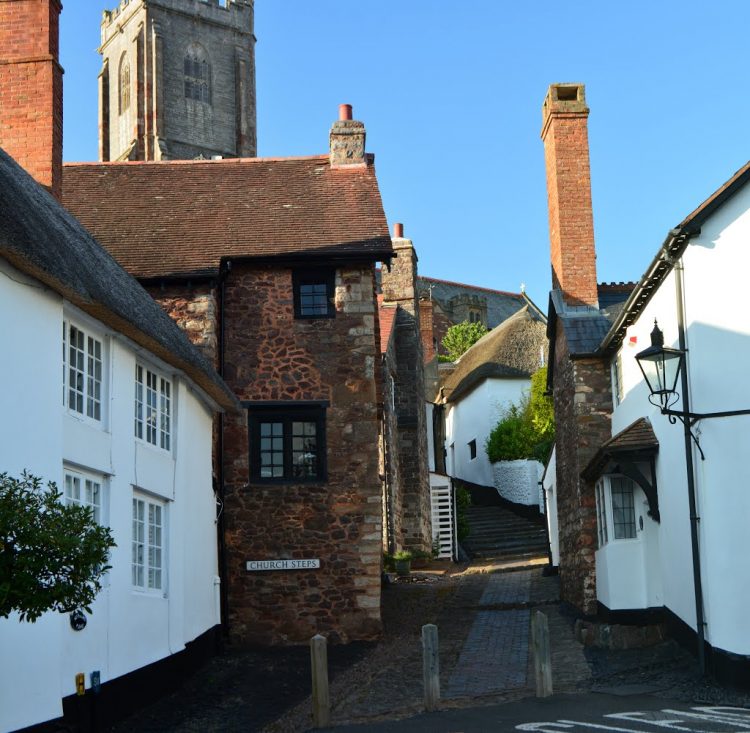 Cottages in Minehead
For some inspiration, have a look at these characterful cottages available to rent for self-catering accommodation, perfectly presented for groups of guests wanting to explore Minehead and the rest of Exmoor. These cottages are near the church, with their own private gardens and hot tubs.
Holiday Cottage for up to 8 guests. Dog-friendly.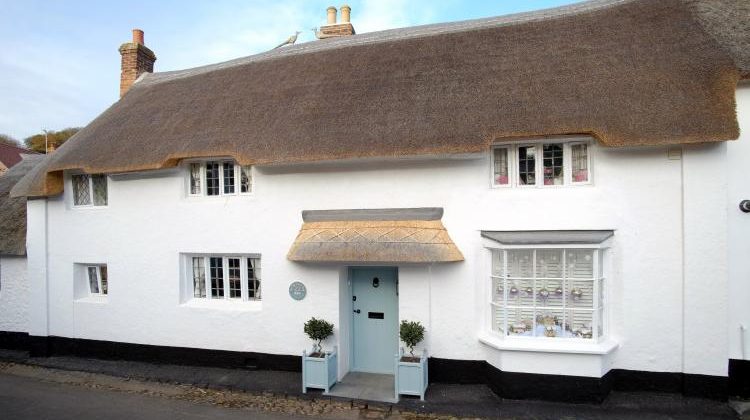 The Old Sweet Shop is aptly named – once the town sweet shop, this is quintessential chocolate box cottage in the quiet, pretty winding streets near the church.
Click here for more details, prices, availability and booking of The Old Sweet Shop
Holiday Cottage for up to 8 guests. Dog-friendly.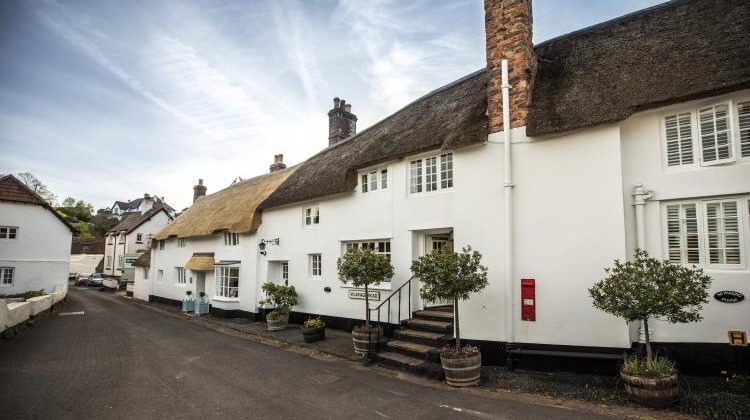 In the same charming spot is Pilgrim Corner, another luxurious Tudor period holiday cottage. A cosy log burner, gorgeous garden, cedar hot tub and indulgent interior design set this property apart for a holiday to remember.
Click here for more details, prices, availability and booking of Pilgrim Corner, Minehead
Holiday Cottage for up to 6 guests. Dog-friendly.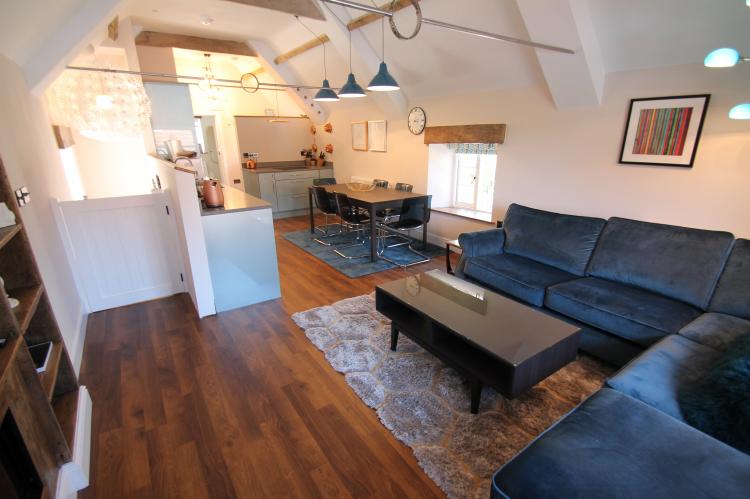 Stone Barn is a beautiful recent barn conversion, sleeping 5 or 6 guests. Light and airy with an open plan living area, this property also provides an excellent self-catering base for exploring Minehead and Exmoor.
Click here for more details, prices, availability and booking of Stone Barn, Minehead
Other Holiday Lets In or Near Minehead
For a selection of over 100 characterful holiday cottages to stay in and around Minehead, visit The Best of Exmoor or head straight to the Cottages in Minehead page. Feel free to get in touch with us at The Best of Exmoor – our local team is happy to help you find your ideal place to stay.

Things to Do Around Minehead and Exmoor
Beyond things to do in Minehead, there is plenty do on Exmoor and many picturesque villages set amongst the rolling hills to explore. Within a few miles of Minehead is the historic medieval village of Dunster, with the impressive Dunster Castle. See our Dunster Guide for more information. The seaside village Porlock and artists dream of Porlock Weir are just along the coast from Minehead and well worth a visit.
Our Top 10 Things to Do on Exmoor