The Coleridge Way is a waymarked footpath across Somerset and Devon. The route connects Nether Stowey and Lynmouth, winding through beautiful landscapes of the Quantox Hills and Exmoor National Park. The Coleridge Way is fifty-one miles (82 km) long; many choose to complete it over six consecutive days, or why not pick up sections of interest anywhere along its length?
Map of the Coleridge Way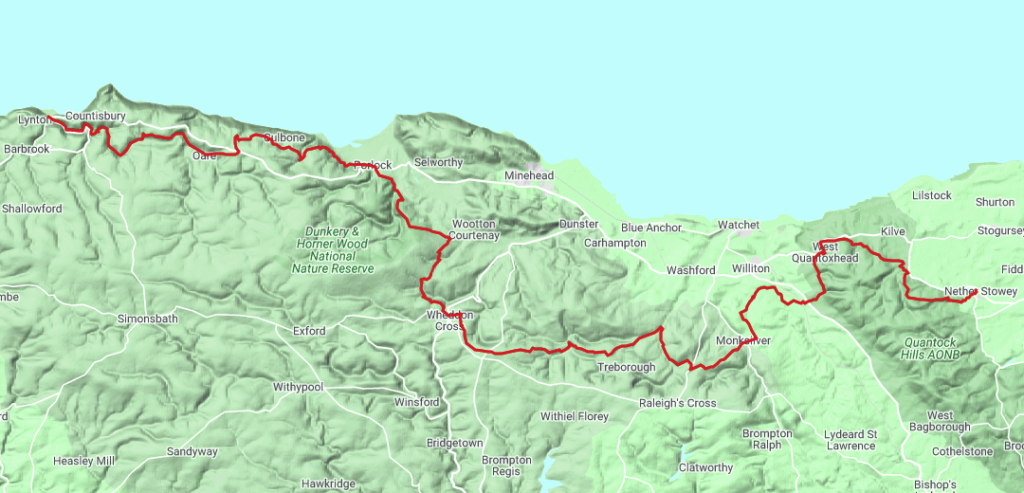 Outline route of the Coleridge Way
The route begins at Coleridge Cottage in Nether Stowey in the Quantocks Hills (although, the path can be walked in either direction of course). From here it heads through Holford, West Quantoxhead and Bicknoller.
The path then enters Exmoor National Park, rising over the Brendon Hills. Pass through villages of Monksilver, Roadwater and Luxborough and over Lype Hill to Wheddon Cross. Rising high into the moors, the route next transverses Dunkery Hill to Horner, before dropping back down to the coast of Porlock.
The path winds back up from sea level through Worthy Woods and over the border from Somerset into Devon, then dips down into Doone Valley. Pass through Oare, Malmsmead, Brendon and Watersmeet before the final stretch into Lynmouth.
Detailed map and description
Follow the links for a detailed guide of the Coleridge Way Route Guide Westward and the Coleridge Way Route Guide Eastward.
Overview of what to expect
The Way is impressively varied. Cross hills and valleys, woodlands and farmland, along forest tracks, quiet country roads and smooth or stoney paths. The sleepy idyllic villages present quintessential thatched cottages and traditional pubs and tea rooms. Habitats of heathland, moorland, coniferous and deciduous woods support a range of wildlife and birdlife.
How difficult is the Coleridge Way?
The majority of the walk is classified as easy, with moderate sections. Although none of the ascents are particularly steep, there are some sections of protracted climbing. A small lane between Roadwater and Wheddon Cross can be hazardous when wet. The path is mostly well marked, but bare in mind this is a sparsely populated area over varied terrain, so good navigation skills are useful.
Who was Coleridge?
Samuel Taylor Coleridge was a 19th-century English poet, critic and philosopher (1772-1834). Coleridge lived in Nether Stowey for three years, his time here and walking through the surrounding countryside is said to have inspired much of his best work. Within only a year of moving here, he had written Frost at Midnight, The Rime of the Ancient Mariner and Khubla Khan.
Self Catering Accommodation on Exmoor
If you are looking to stay in the area, there are plenty of options along the Coleridge Way or across Exmoor. Here are some dog-friendly cottages in Porlock.
More posts you may be interested in