The West Somerset Railway offers much more than train travel. This steam locomotive offers a step back in time to the days of old. A country branch line of the old Great Western Railway, come along for a scenic ride in nostalgic style. The line showcases historic wagons, coaches and 10 unique stations.
The train winds its way through the scenic West Somerset countryside. Starting its journey in Bishops Lydeard near Taunton, the 20-mile journey takes you through to finish at the seaside town of Minehead. Travel through the Quantock Hills and Exmoor countryside, with views across the Bristol channel to Wales.
West Somerset Railway Stations
Bishops Lydeard – a half hourly bus service runs here from Taunton (Monday to Saturday) to start your journey
Crowcome Heathfield – the location of filming for the Beatles "A Hard Days Night"
Stogumber – a thriving, picturesque village set in a valley between the Quantock and Brendon Hills.
Williton – town with various shops and conveniences
Doniford Halt – sit on this pretty little platform with heritage 'pagoda' waiting room and views
Watchet – dating back to Saxon times, wander narrow streets to museums pubs and shops
Washford – alight here for Cleeve Abbey or Torre Cider Farm
Blue Anchor – walk the spacious Blue Anchor Beach
Dunster – medieval village there are plenty of Things to Do in Dunster,  also see the impressive Dunster Castle, Grounds and Watermill.
Minehead – final stop, there are plenty of Things to Do in Minehead
West Somerset Railway Events
The West Somerset Railway put on various events throughout the year. From Days Out to Galas, Catering Specials, Driver Experiences and special Children's Events, there's something for everyone. Try the Cheese and Cider Lunchtime Special or Murder Mystery Special
Browse the West Somerset Railway official website for more information on upcoming events, specials and what to expect.
West Somerset Railway Prices
DAY ROVERS
ADVANCE
ON THE DAY
Adult Day Rover (18 to 64 years inclusive)
£20.25
£22.00
Senior Day Rover (65+ years old)
£19.35
£21.00
Young Person Day Rover (3 to 17 years inclusive)
£10.15
£11.00
Disabled Day Rover
£17.00
£17.00
Under 3's Day Rover
FREE
FREE
Family Day Rover
(2 adults and 2 young persons)
£50.60
£55.00
Dog Day Rover
£2.50
£2.50
Bicycles
£2.50
£2.50
TWO DAY ROVER
ON THE DAY
Adult/Senior Two Day Rover
£39.00
Young Person Two Day Rover (3 to 17 years inclusive)
£19.50
Under 3's Two Day Rover
FREE
Family Two Day Rover
(2 adults and 2 young persons)
£84.00
Dog Two Day Rover
£5.00
Bicycles
£5.00
FREEDOM OF THE LINE
ON THE DAY
Adult Freedom of the Line (18 to 64 years inclusive)
£48.00
Young Person Freedom of the Line (3 to 17 years inclusive)
£24.00
Under 3's  Freedom of the Line
FREE
Family  Freedom of the Line
(2 adults and 2 young persons)
See here for more details on prices, bookings and other passes
West Somerset Railway Map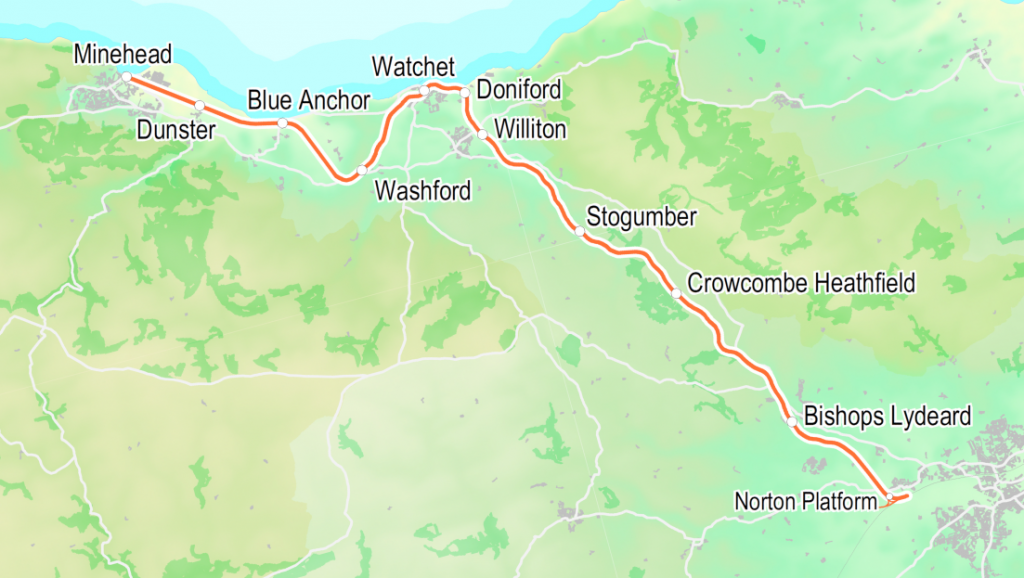 Other posts you may be interested in;





Exmoor Holiday Cottages

If you are looking for self-catering accommodation across West Somerset or Devon we have the best selection of holiday cottages on Exmoor. Browse dog-friendly cottages, cottages for couples, group accommodation, cottages in Porlock, cottages in Dunster and more.